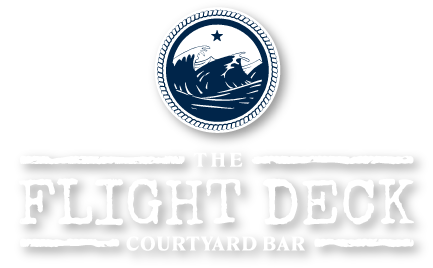 SHARE BOLD STORIES OVER BOLD SPIRITS
Our Flight Deck Courtyard Bar is open and you're cleared for landing.

Newly renovated and featuring an abundance ofoutdoor seating and space for social distancing.
Well behaved dogs on leashes are welcome… kids, too!
Signature cocktails featuring fresh-out-of-the barrel whiskey and rum cocktails.
The Flight Deck Courtyard Bar showcases Old Line's spirits complemented by a range of spirits and liqueurs from around Maryland and the world as well as an assortment of carefully prepared garnishes and handmade syrups.  The Flight Deck's bar staff are some of the best in the city and uniquely able to showcase the very best of what our spirits have to offer, with just the right balance of bitter and sweet.
Courtyard Bar
Saturday: 12:00 – 8:00 pm
Curbside Pickup
Wednesday – Friday: 12:00 pm – 5:00 pm
Saturday: 12:00 pm – 8:00 pm
FINDING US IS EASY
Located in Highlandtown, we're just a short drive from Baltimore's Inner Harbor, and the popular neighborhoods of Fell's Point and Canton. We have plenty of free parking at the distillery.
Address:
200 S Janney St. Baltimore, MD 21224
Entry is at the back, through the courtyard gates