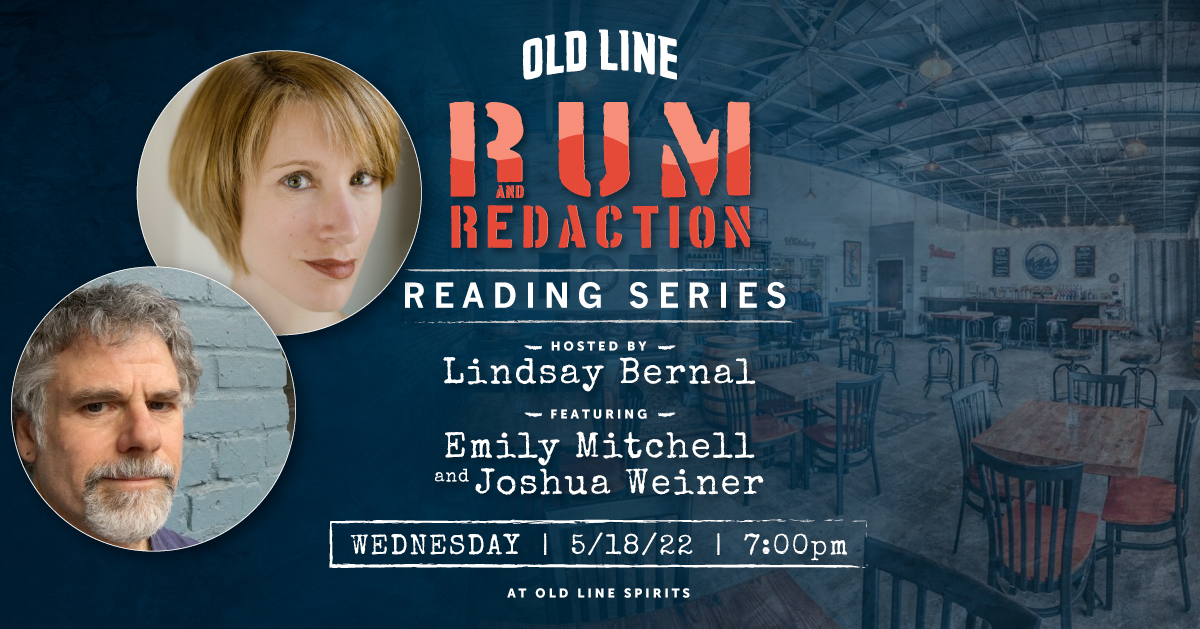 Rum and Redaction – May 2022
Join us Wednesday, May 18th, for Rum and Redaction in partnership with Bird In Hand Café, featuring Emily Mitchell and Joshua Weiner. We'll have special cocktails highlighting Emily and Joshua's favorite flavors.
Emily Mitchell was born in London, England. She's the author of a novel, The Last Summer of the World, which was a finalist for the 2008 NYPL Young Lions Award, and a collection of short stories, Viral. Her fiction has appeared in Harper's, Ploughshares, The Sun, Alaska Quarterly Review, Prairie Schooner and elsewhere. Her nonfiction has appeared in The New York Times, New Statesman, and Guernica. She is the recipient of fellowships from Yaddo, the Ucross Foundation, Virginia Center for Creative Arts, the Sewanee Writers Conference and the Breadloaf Writers Conference. She serves as fiction editor of New England Review and teaches at University of Maryland.
Joshua Weiner is the author of three books of poetry, and the editor of a book of essays about Thom Gunn (all from University of Chicago Press). His Berlin Notebook, reporting about the refugee crisis in Germany, was published by Los Angeles Review of Books in 2016. He has received Whiting, Guggenheim, and Rome Prize fellowships, as well as the Amy Lowell Poetry Traveling Scholarship, which took him to Berlin in 2012.  His translation (with Linda B. Parshall) of Nelly Sachs' 1959 volume, Flight and Metamorphosis, was just published by Farrar Straus Giroux.  He teaches at University of Maryland, and lives in Washington D.C.