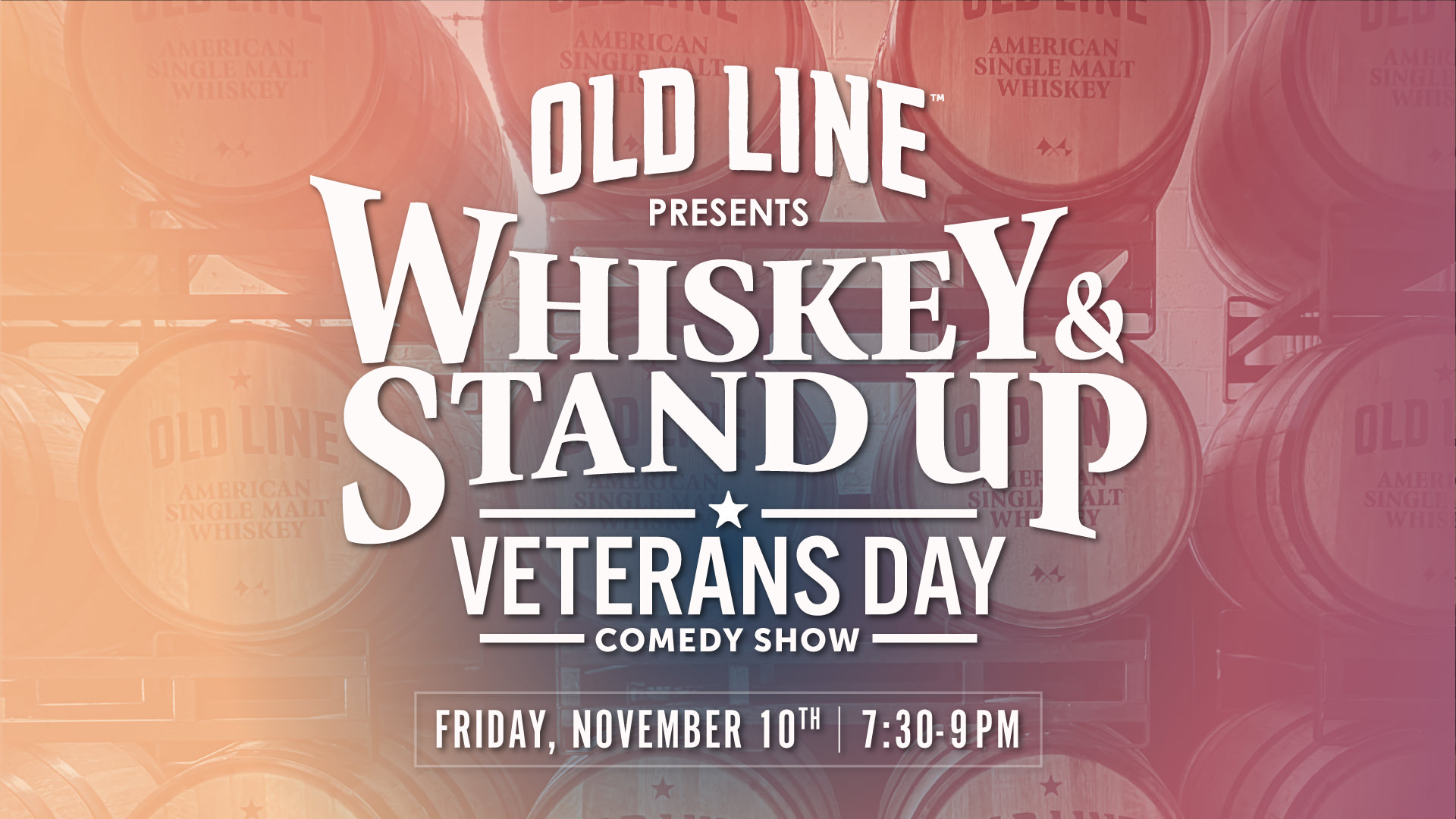 Whiskey & Standup Veterans Day Comedy Show
Get ready to laugh out loud at Old Line Spirits! This Veterans Day, we're hosting a unique comedy show on November 10th, featuring a lineup of six incredible comedians who are either veterans themselves or closely tied to the military community. As a brand founded by Navy veterans, giving back to our military heroes is part of our DNA. This isn't just a comedy night; it's a celebration of those who've served. Plus, a portion of the proceeds will go directly to veteran organizations. Mark your calendar—you won't want to miss this unforgettable night!
Featuring:**
Pete Bergen
King Tink
Dewayne White
Jeff King
Nikkie Knowles
Chris Lawrence (host)
Get Your Tickets Here:
https://www.simpletix.com/e/whiskey-stand-up-veterans-day-comedy-show-tickets-144240
Pete Bergen
Pete Bergen is an Army vert….. he may look and sound gruff but he is a big bear of a sweetheart. You'll love his take on his own sordid history and observations in general. He has opened for and performed with some great folks like Patton Oswalt, Rory Scovel, Bobcat Goldthwait, David Koechner, Carmen Lynch, Kelsey Cook, Chris Gethard, Chris Katan and at some great venues like the DC Improv (DC), Arlington Cinema and Drafthouse (VA), Magooby's Joke House (MD), Church Of Satire (PA),QED Astoria (NY), DC Comedy Loft (DC) and The Drafthouse Comedy Theater (DC). 
King Tink
King Tink is a comedian in the Baltimore/DMV area that has been doing Comedy for 9 years. I have opened for comedians like Tony Woods, Bill Bellamy, Ricky Smiley, Nephew Tommy, Michael Blackson, Ms. Pat, and Jess Hilarious. I am originally from Louisville, KY. But, I have lived all over world because my father was in the military. I have lived in Germany, Alaska, and the majestic, but racist Utah. I believe that helps get my perspective across to many different audiences. My comedic style is Sophisticated Ignorance. I talk about the ignorant things that even the most High Class or Bottom feeding adults can understand.
Dewayne White
Dewayne White s a DC-based standup comedian and a combat-wounded Army veteran who served in the Army for 23 years. His humor is drawn from his unique take on his military experience, his life as a husband and father, and the general craziness of life. Dewayne is also an instructor for the Armed Forces Arts Partnership's Comedy Bootcamp, a 6-week crash course for service members, veterans, and their family members.
Jeff King
Jeff King grew up in the DC area, went to college, then spent a couple of years in the U.S. Marine Corps, where he gained some new components but retained what could be called a sunny outlook. After retiring, he moved to Baltimore, got married, and has been performing stand-up comedy since 2019. He and his wife have a goofy Labrador named The Wudge.   Jeff enjoys talking about life and culture from his oddball perspective. He has performed comedy at venues such as Magooby's Joke House, The DC Improv, Church of Satire, and a few VFW Halls.
Nikki Knowles
Nikkie Knowles is the founder of Funny Girl Productions and has worked with the Armed Services Arts Partnership (ASAP) to craft outstanding jokes and stories and to bring even greater smiles. She is a Wife (of a Veteran), Mother, Friend AND….Magooby's Joke House Comedian of the Year.
Chris Lawrence
Host: Chris Lawrence was born behind the "Iron Curtain" in Berlin, Germany. The product of an Army dad and a German mother, Chris was destined to have a sense of humor. Chris had a front seat to his dad's 20 year career as an infantryman, then ultimately a medical recruiter in Fort Meade, Maryland. Chris has been doing stand up for nearly 20 years performing in clubs and bars all over the DC/Maryland/Virginia area. He's performed with some of the biggest names in comedy like Brian Regan and Chris Distefano.  His also performs with the Constituents, a group of comedians that perform politically-centric comedy lampooning political figures on both sides of the aisle. https://www.facebook.com/christopheralaw – Chris Lawrence (@clawcomedy)
Get Your Tickets Here:
https://www.simpletix.com/e/whiskey-stand-up-veterans-day-comedy-show-tickets-144240
**Lineup subject to change without notice